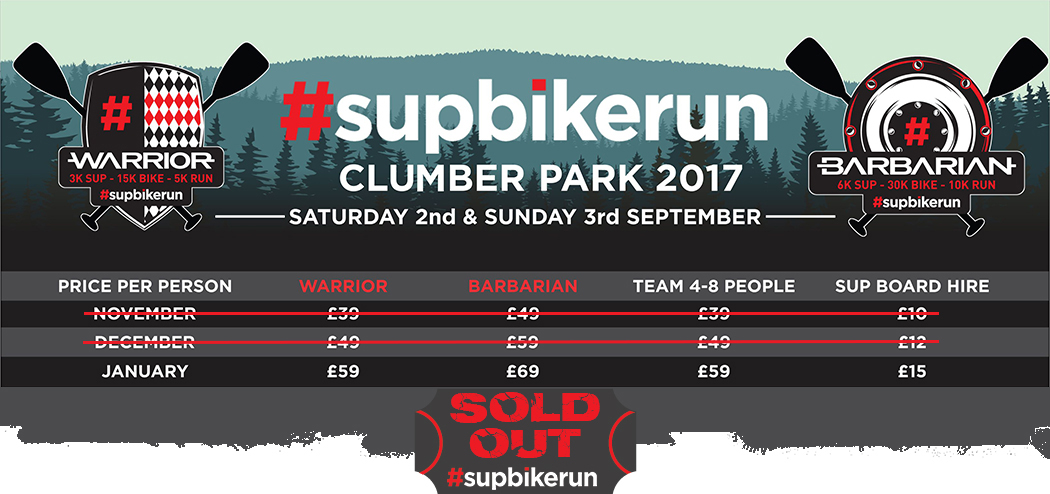 CLUMBER PARK 2017
Join us for the ultimate off-road triathlon event that combines SUP (stand up paddle boarding), mountain biking and trail running with a choice of two course lengths and SUP board hire available. Enter alone or enter as a Team (4-8 people per team) and use our giant XL SUP board!
WARRIOR 3K SUP | 15K MTB | 5K RUN
BARBARIAN 6K | SUP | 30K MTB | 10K RUN
TICKETS SOLD OUT – EMAIL US TO BE PLACED ON WAITING LIST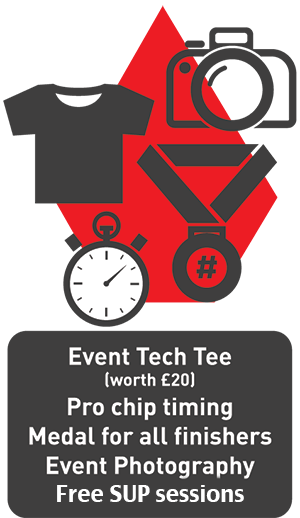 CAMPING
Every #supbikerun venue in 2017 comes complete with on-site camping (not included in ticket price), excellent catering, SUP demo's from all the leading brands and chill-out zone. Bring your friends, bring your family, relax and enjoy.
COURSE MAP & GPX FILES
Official course maps and GPX files will be released 2-weeks prior to the event.


All participants will be awarded one of the following free SUP classes or workshops which will take place throughout the day on Saturday 2nd September.
Relax, unwind and experience the exciting and fun side of SUP Yoga.
You will be taken out on to the water in small groups to keep the experience and class personal.
Your SUPFIT coach will take you through the basics of SUP Yoga over a 30 minute session perfecting balance and posture
Never set foot on a SUP board before… have no fear!
Our qualified (BSUPA) instructors will take you through the basics. Introduction to equipment, prone paddling, kneeling, standing, correct posture and paddle technique. Our 'ready to ride' lesson will take you from total novice to paddling like a pro within the hour
So you know what's SUP but maybe you want to improve your technique?
Paddle technique, maximise performance on the water and squeeze every bit of power from every paddle stroke. Our master classes run with SUPFIT will deliver loads of useful top tips in an easy to digest 30 minute session
Key information
Timed but not a race – all participants will be chip timed and provided with their times (including split / transition times) as they cross the finish line.
All participants will receive a finishers medal but please note we encourage you to ride and run with due respect for other users of public rights of way
Terms and conditions – By purchasing a #supbikerun ticket you agree to our terms and conditions
Course distances – Distances are approximate and can be subject to change due to weather