THE ULTIMATE TRIATHLON EVENT
Get ready for the ultimate triathlon event combining SUP (stand up paddle boarding), mountain biking, and trail running. A real adventure of a weekend, bring your friends, invite your family, and get your SUPBIKERUN on!
THE VENUE
Wimbleball Lake on Exmoor in Somerset is an absolute hidden gem. Home of the iconic Ironman 70.3, it's clear to see why this venue is a must for the triathlon enthusiast. The stunning reservoir is surrounded by super fun mountain bike trails and access to rolling Somerset roads is easy. The venue offers a spacious camping field (Friday & Saturday) and with an array of walking and cycling trails winding around the 530 acre site, and a fantastic range of watersports and other activities available, this is the perfect location to spend a SUPBIKERUN weekend.
SATURDAY 11th JUNE – SUP TRAINING DAY
All participants will have access to free SUP lessons on the Saturday including SUP Beginner, SUP Masterclass, and SUP Yoga. These lessons are not compulsory but on offer for those participants that are joining us for the weekend. The lessons will run from 9am – 2pm and your friends and family can purchase a water access pass if they would like lessons.
SUNDAY 12th JUNE – MAIN EVENT
Your SUPBIKERUN main event is staged on the Sunday. When you book your ticket you can select your start time 8am, 9am, or 10am. Long distance participants can only start at 8am or 9am.
STANDARD – 3K SUP | 15K BIKE | 5K RUN
LONG – 6K SUP | 30K BIKE | 10K RUN
THE BIKE ROUTE
This 15K MTB route is a real adventure. Starting with a gradual climb away from the lake on a private track, you then descend an amazing single track trail at the back of the dam. Passing through sheep meadows and following the river you'll then make your way up 'Dam that's hard!'… a private concrete track that climbs the height of the dam. It's then back off road as you pick up single track that navigates the entire lake through woodland. Super scenic, super fun, this route really is a stunner!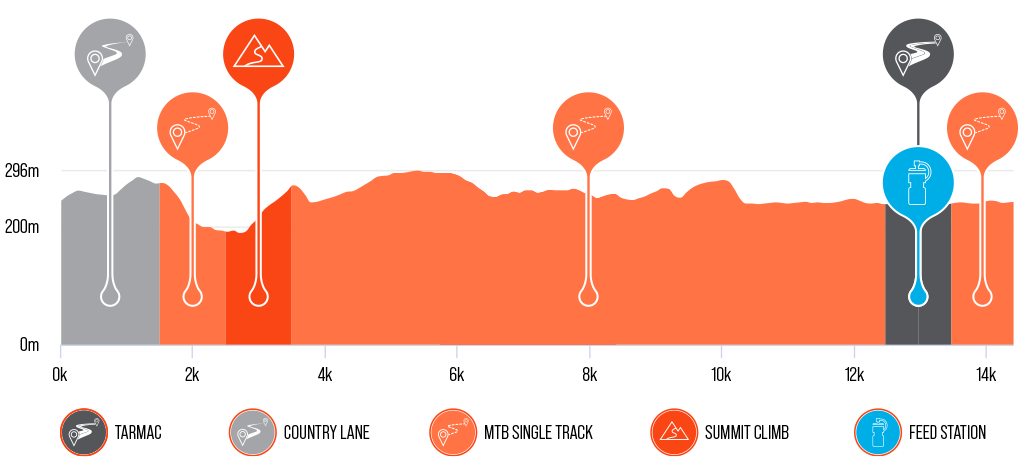 BOOK YOUR CAMPING
All camping for the Exmoor event must booked directly with Wimbleball Campsite. Use the link below to select your camping.
BOOK YOUR CAMPING
TICKET INCLUDES
Your ticket price includes entry to the event, finishers medal, SUPBIKERUN Tech-Tee, professional timing, Event Protect insurance, and a refreshing cold beer at the finish line!
GET £10 OFF YOUR TICKET!
If you are using your own paddle board for the event and you are happy for us to use your board for another participant once you have finished your SUP then select this option when booking your ticket to save £10!