As a #supbikerun participant you want to be prepared when heading out off-road but equally you don't want to weigh yourself down with extra baggage and kit. Introducing the Specialized SWAT.

With this in mind, Specialized has developed SWAT Technology, an acronym for storage, water, air and tools. You get everything you need to get you out of a sticky situation all housed within a frame mounted sleek storage case.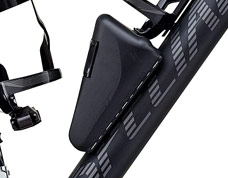 THE MTB XC KIT
A fully integrated emergency repair kit to solve any minor mechanical repair, while also eliminating the need to wear a hydration pack.
The Kit includes a frame-mounted storage box which contains a 29" inner tube, Co2 head, and tire lever with room for other essentials, plus two Zee Cage II water bottle cages, a Top Cap Chain Tool, and the EMT Cage Mount Tool. The EMT tool can be mounted in a slot on the bottom of the toptube on the Epic and via the bottle cage on the Stumpjumper HT.