Set within the Exmoor National Park, Wimbleball Lake provides a stunning background and challenging terrain for the first #supbikerun event of 2015.
In this short article we explore the bike course, the route we will guide you on and some of the key features. At just over 25KM, this course is slightly shorter than the advertised 30K but this shorter distance will come as a huge relief to many as whilst shorter it has some descent ascents to get your legs working.
Sections 1 – 4
From the Bike Transition Zone you will head North following the lakeside track and after 1KM you'll see the first of our safety marshals guiding you right as you take the first section of road (Storrtidge Lane). This small road section takes you through a second right turn onto Ruggs Hill before swinging right and picking up the lakeside track. Once back on the track you'll follow open singletrack that winds its way around the lake with amazing views back to the where you started at the Bike Transition Zone.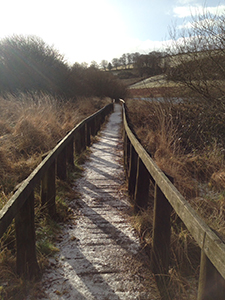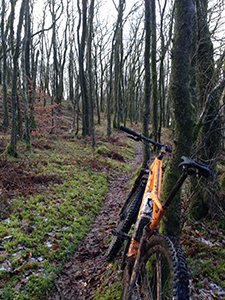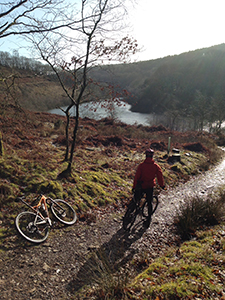 Sections 4 -7
At the 4KM mark you'll reach the first obstacle to cross, a short section of wooden bridge that if taken at a gentle speed will mean you can simply ride straight across with no need to stop or walk. As always, if you are unsure then get off and walk your bike across always making way for cyclists in the saddle coming through. The singletrack continues and at the 5KM mark will become less open moving you through sections of woodland. Here the ride becomes really interesting as you navigate a 3KM section of wooded singletrack that sweeps and winds through the trees.
Sections 7 – 8
At the 8KM mark you'll reach a small Ford and our advise is to ride or walk through this rather than taking the stone bridge (this is narrow and very slippery). After crossing the Ford you'll face a short but sharp incline which leads you to a small section of steps. Here you'll need to get off and run your bike up and through the kissing gate (please note we will lift this gate off its hinges for the event). At this point there will be a Mitsubishi ASX safety marshal guiding you right along a verge to access the next section of bridleway.
This next section of wooded bridleway is quick and easy riding for approximately 2-3KM as it takes you West towards and then through Deer Park. At this point your next ascent commences initially through Deer Park then swinging sharp left onto a concrete private track that climbs steeply to the top of Haddon Hill.
Sections 8 – 9
At the 12KM mark and situated right on top of Haddon Hill you'll be greeted by our friendly team and the Super Vitality Feed Station. Here you can refuel, top up your water bottles, munch on bananas and a variety of other delicious energy boosting snacks. Please note there are public toilets located directly behind the feed station for those caught short.
From Haddon Hill you'll see our 2nd Mitsubishi ASX safety marshal who will be positioned roadside and guiding you right to pick up the Haddon Lane Track. This is a stunning bridleway that passes open Exmoor moorland to the right and super stunning views to your left. At the 13KM mark you will pass through a small farmyard. Please be careful here, watch out for farm machinery and keep your speed down.
Sections 9 – 11

After leaving the farmyard you swing right on the Haddon Lane bridleway. This is a steep descent with many obstacles including rocks, branches and of course other people so please take it steady. At the 15KM mark you will be greeted by the 3rd Mitsubishi ASX safety marshal where you turn right into the beautiful village of Bury passing through a challenging Ford (please note there is a big safe footbridge if you don't fancy getting wet).
Sections 11 – 15
Leaving Bury, you pick up Lady Harriets Driveway, an old and beautiful section of bridleway that sweeps through woodland for 3KM following the River Haddeo until you reach a trout farm on your right hand side.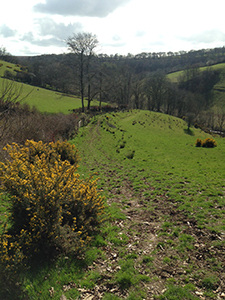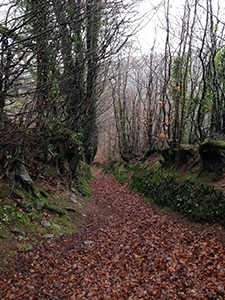 Sections 15 – 18

At this point you swing left taking a small country lane that takes you North up a short sharp incline. Following this incline you'll turn right taking a bridleway that leads you down to the River Pullham and yet another Ford to cross. The bridleway now climbs steeply proving a tough challenge with stunning views to your left across the valley.
Sections 18 – 21

At the 20KM mark you'll see a safety marshal who will guide you right onto a country lane. It is also this point that runners turn left and cyclists turn right. Remember, cyclists follow the PINK signs and runners follow the YELLOW.
The country lane drops cyclists down Steep Lane where you'll pick up a steep descent so watch your speed and look out for runners coming up… skull and cross bones signs are there for a reason!
The bridleway at the bottom swings right and after a short while you will see a turning on your left that leads you across a wooden bridge. Here you will turn left picking up Dam Steep Hill a short concrete private road that takes you from the bottom of the dam right to the top.
Sections 21 – 23

At this point, rest assured that you have completed all the tough bits. You now swing left cycling across the dam and then turn right following the lakeside track that sweeps you all the way round and back to the Bike Transition zone at the 25KM mark. Please note that cyclists, runners and the general public will be using the lakeside tracks so give warning that you're passing and make some noise. The general public are of course aware that an event is on so should be keeping out your way. That said we still ask you to be considerate of others and #enjoytheride !!
OFFICIAL DOWNLOAD MAP AND GPX FILE COMING SOON…