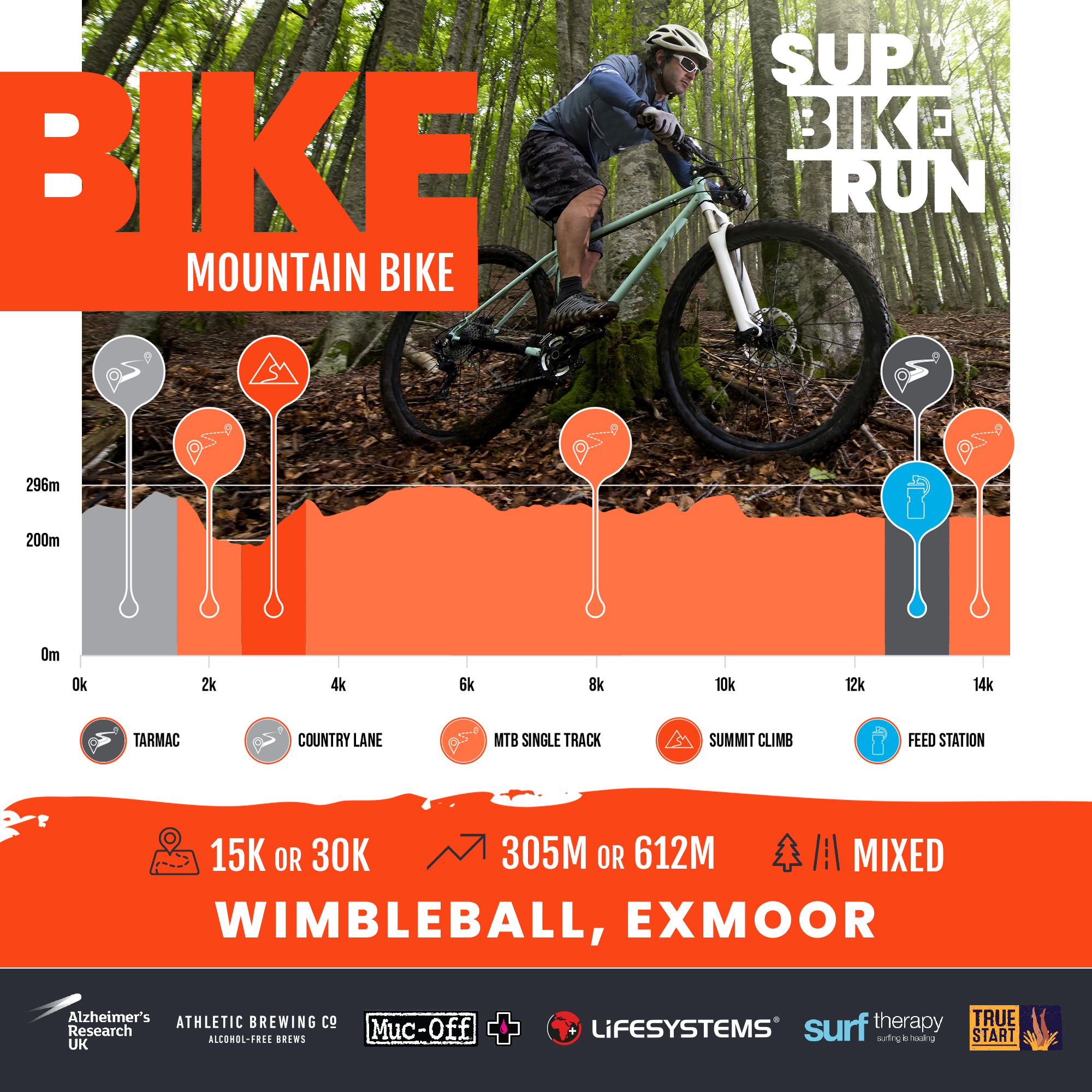 EXMOOR – THE MTB BIKE ROUTE
We keep this route as simple as possible. Not technical, just super fun with awesome views at all times across Wimbleball Lake.
From transition you'll leave the venue following a sleepy country lane for the first 1km. As you reach the trails it's a super steep but easy to ride bridleway that drops you down behind the dam and to the lower sheep meadows. This magical section of trail almost has a 'Lord of the Rings' feel about it with gnarled roots twisting through the banks and hollows in the banks. As you break out across the lower meadows, you'll drop down through a small ford crossing the River Haddeo before a sharp left dog leg to pick up a private road that leads back to the dam.
Just after 2km you hit your summit climb 'Dam Hard', just under 1km of climbing and an ascent of 90m to reach the top of the dam. From the top and at 3km you'll drop down into Deer Park on good wide bridleways emerging just before 6km on a short section of road before tucking left through a gate and small section of steps. Please note you'll need to carry your bike down the steps, it isn't rideable!
You are now on the South Hill Woods trails and will enjoy just over 3km of fun single track that snakes through the woods with views across the lake. The next section 9km – 12km is on open meadow trails as you curve around the lake with views over to the main event site and bike transition. Just after 12km and as you hit Ruggs Hill you'll see the Feed Station, here the MTB route and Road bike route converge briefly to feast at the station.
Your final section takes you along the road across Bessom Bridge before tucking left to pick up the last section of trail that guides you right back to transition. Standard participants will head back into transition whilst Long distance participants will head back around to complete a 2nd lap.
ROUTE STATISTICS
Distance 16K
Lowest Point – 4m
Highest Point – 192m
Uphill – 7.20K
Downhill – 7.38K
Flat – 1.53K
Steepest Uphill +18.9%
Steepest Downhill -13.3%
Longest Uphill – 3.15K
Longest Downhill -2.43K