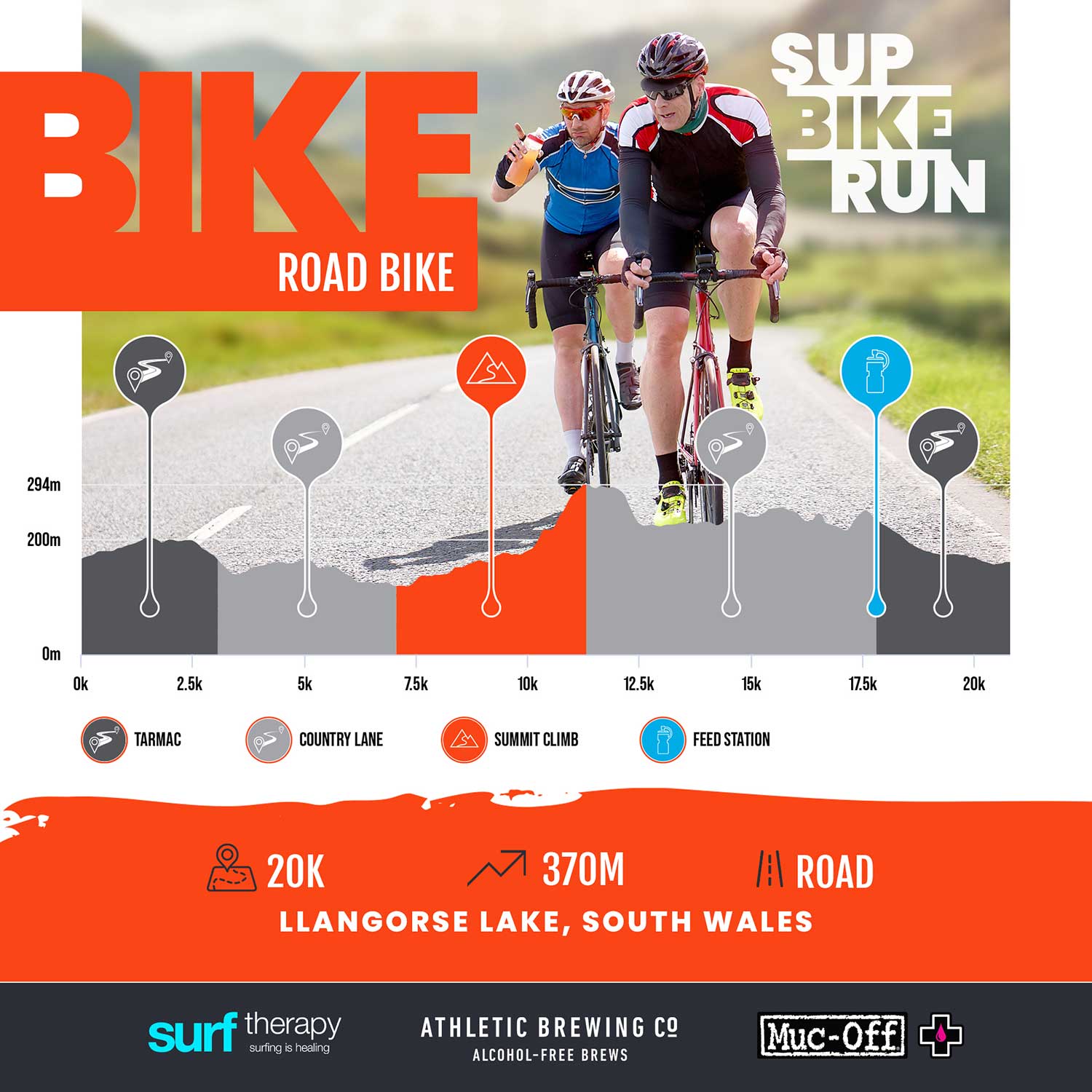 SOUTH WALES ROAD – THE BIKE ROUTE
Our 1st Road bike option in the 2022 line of SUPBIKERUN events and what a way to kick things off!
Just over 21K of the finest roads through the Brecon Beacon National Park. Your ride starts with a short burst on excellent tarmac along the B4560 breaking you North and away from the lake. You then turn on to super sleepy scenic country lanes that continue your route North towards Tredustan.
With the route now guiding you West, until now you have been treated with gradual ascents and fun downhill sections, but at 7.5K in you hit the foot of the Allt Filo to start your summit climb. Starting at 119m above sea level, the summit climb packs in a tasty 176m of accent over a 4K distance.
Off the back of the Allt Filo it's a real steep descent so caution, and careful braking required. From 12.5K to 17.5K the route remains undulating with beautiful mountain views in all directions, and short sharp climbs occasionally. At 17.5K you'll hit the feed station, and then it's just a short fast blast on excellent tarmac back to the lake. Those of you doing the 'LONG' route will complete a 2nd loop packing in a whopping 740m of ascent.
ROUTE STATISTICS
Distance 21K
Lowest Point – 118m
Highest Point – 294m
Uphill – 9.18K
Downhill – 8.73K
Flat – 2.88K
Steepest Uphill +16.7%
Steepest Downhill -16.7%
Longest Uphill – 1.53K
Longest Downhill – 1.89K